Chairish has multiple selling options to choose from. Select the plan that best suits your needs. Whether you're looking for a new home for your great grandmother's heirlooms, or you're a professional dealer with a warehouse full of unique finds, there's a plan for everyone. An overview of the different options is outlined on our Consign with Us page (scroll all the way to the bottom of the page to compare plans side-by-side).
To learn more about the benefits of the Elite membership, we invite you to watch this webinar.
* Professional, Plus, and Elite sellers have a tier-based sliding scale, dependent on the price of your item.
Amounts less than or equal to $2,500: 20% Commission

Amounts between $2,501 - $25,000: 12% Commission

Amounts greater than $25,000: 3% Commission
See the graphic below for some examples of how our Professional, Plus, and Elite commission scale works: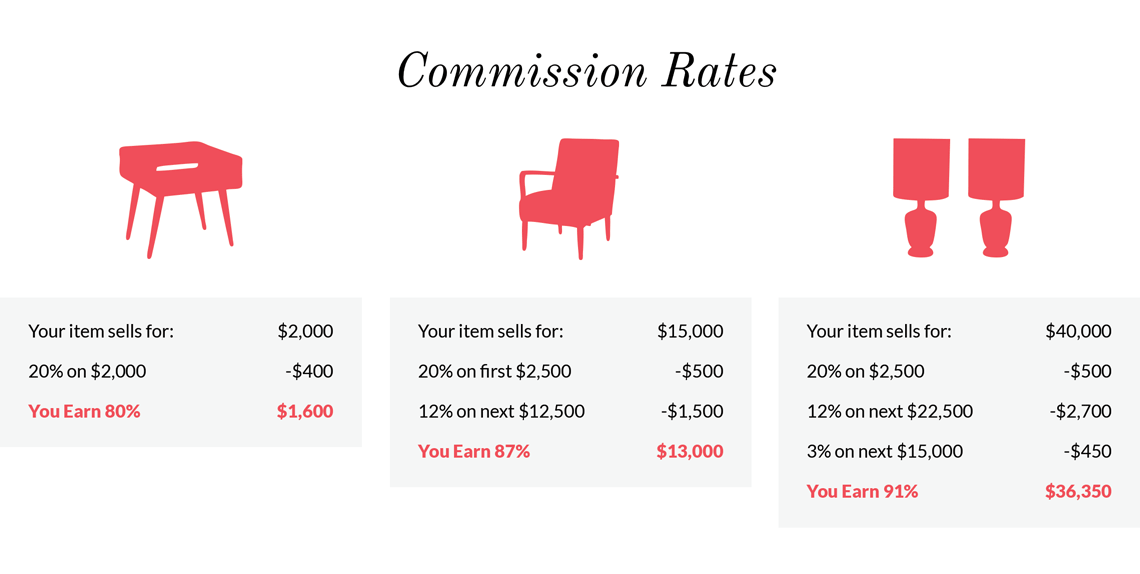 Chairish will pay you the Sale Amount, less Commission and any Permitted Deductions, and subject to the Shipping and Returns Policy (the resulting amount, "Final Proceeds").
"Sale Amount" means the sales price for which your item was sold or the price that we actually received from the buyer. This excludes amounts assessed on the sale (like taxes and duties), shipping and delivery costs paid by the buyer, transaction fees such as credit card transaction costs, and international and bank-wire fees.
"Commission" means the percentage of the Sale Amount paid to Chairish for your use of the Service. The Commission percentage is determined by your Seller plan.
How and When Will Seller Plans Are Determined:
When you first open your account, your account will be assigned the "Consignor" plan by default. When you reach 10 live listings, you'll automatically be upgraded to "Professional".
If your account falls below 10 live listings, you will retain your Professional status for a 6-month grace period. Whenever your account reaches 10 listings, that 6-month timer will restart. If you do not reach 10 listings within that 6 months, your account will be downgraded back to the Consignor plan.