Chairish will pay you the Sale Amount, less Commission and any Permitted Deductions, and subject to the Shipping and Returns Policy (the resulting amount, "Final Proceeds").
"Sale Amount" means the sales price for which your item was sold, or the price that we actually received from the buyer. This excludes amounts assessed on the sale (like taxes and duties), shipping and delivery costs paid by the buyer, and transaction fees such as credit card transaction costs, international and bank-wire fees.
"Commission" means the percentage of the Sale Amount paid to Chairish for your use of the Service. The Commission percentage is determined by a tier-based sliding scale, dependent on the price of your item.
Amounts less than or equal to $2,500: 20% Commission
Amounts between $2,501 - $25,000: 12% Commission
Amounts greater than $25,000: 3% Commission
See the graphic below for some examples of how our Commission scale works: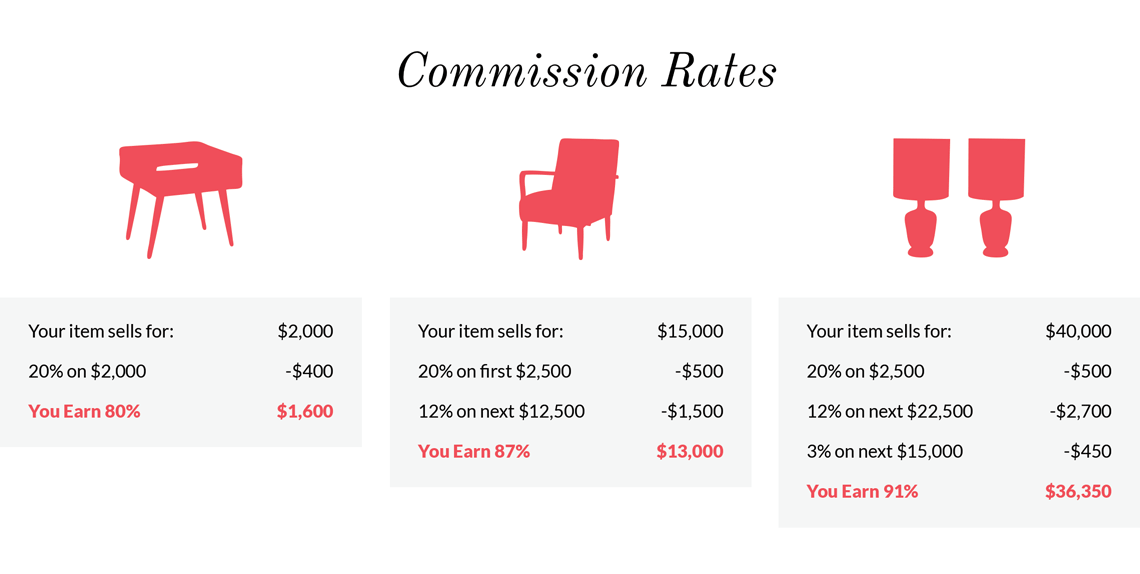 "Permitted Deductions" means any costs we agree to (in writing, email or otherwise), such as additional insurance. These deductions are rare.
Note: if you offered "Free Shipping" and the buyer chose this option, you are responsible for the cost of shipping per the Shipping & Returns Policy.