You can determine the exact shipping cost for any listing from the Product Description Page.
On the Product Description Page, below the image of the item, there are 4 sections. Click "Shipping Options" to expand the shipping section.
Doing so will present you with the shipping/pick-up methods available, and the lowest cost options for your zip code. Simply add the destination zip code in the box next to "shipping options" and click apply. (You will also find this information on the checkout or Make an Offer page).
To learn more about how we determine shipping costs, click "View Policy" to see the full shipping details.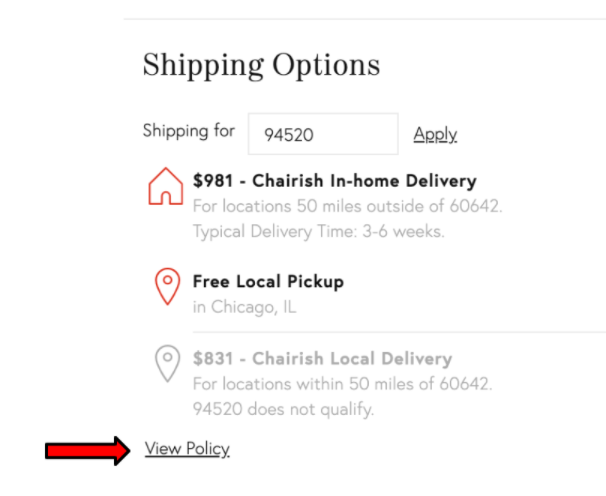 Once you click View Policy you will see the chart below.

The cost of in-home shipping starts at $299 ($149 for deliveries traveling less than 50 miles) and is determined by a number of factors, including but not limited to:
- The distance between you and the pick-up location of the item
- The size of the item
- The value of the item
- Any special requirements necessitated by the nature of the item (i.e., crating for chandeliers)
Most of our listings are one of a kind, pre-owned and unpackaged. As a result they often require either professional packaging or professional furniture movers to ensure that they make it to their new home in one piece. If you have a specific item you are looking at, you can always ask the seller if they are willing/able to pack for shipping through a lower cost channel.
We are continually looking for new ways to work with our shipping partners and Sellers or offer lower cost shipping options. Our shipping costs are a direct pass-through (no markup!), so you are getting the lowest option available.