Rules and Eligibility Requirements
The Chairish Scholarship Program (the "Scholarship") is sponsored by Chairish, Inc. ("Chairish").
ELIGIBILITY:
Students must meet minimum eligibility requirements below to apply.
The Chairish "Design Your Future" Scholarship minimum eligibility requirements:
Minimum 3.0/4.0 cumulative GPA.
Must be at least 18 years old as of the date of application.
Must be a permanent legal U.S. resident physically residing in the fifty United States of America or the District of Columbia.
Open to graduating high school seniors, college undergraduates, and graduate students.
Must be enrolled or planning to enroll at an accredited two-year, four-year, or technical/vocational college or university in the United States.
This scholarship is open to students from all underrepresented or disadvantaged backgrounds. Examples of ideal applicants include, but are not limited to, students from racial minorities typically underrepresented in higher education, first generation college students, women pursuing a degree in a STEM or typically male-dominated industries, students with disabilities, and or similar situations.
Essay Requirement: Applicants must submit a 500 word essay designing their ideal future and what the student plans to do in order to achieve that dream.
Subject to these Official Rules, the Scholarship is open only to permanent legal U.S. residents physically residing in the fifty (50) United States of America and the District of Columbia, who (i) are at least 18 years old as of the date of application; and(ii) are currently enrolled in an accredited college or university in the United States, as listed on the U.S. Department of Education website, available at http://ope.ed.gov/accreditation/Search.aspx. Scholarships will not be paid to Universities outside of the United States. Employees of Chairish, and their respective parents, affiliates, subsidiaries, and advertising and promotion agencies and any other entity involved in the development or administration of this Scholarship, and their immediate family members or household members are not eligible to participate in or earn the Scholarship. THE SCHOLARSHIP IS VOID OUTSIDE THE UNITED STATES OR WHERE PROHIBITED OR RESTRICTED BY LAW OR WHERE BONDING, REGISTRATION, OR OTHER REQUIREMENTS WOULD BE REQUIRED BUT HAVE NOT BEEN MET. ALL APPLICABLE FEDERAL, STATE AND LOCAL LAWS APPLY.
APPLICATION PERIOD:
There are two annual application periods for the Scholarship. The respective annual application periods are as follows: January 1st Deadline opens July 1st, at 12:01 am Pacific Time and ends on January 1st, at 11:59 pm Pacific Time; and June 30th Deadline opens January 2nd, at 12:01 am Pacific Time and ends on June 30th at 11:59 am Pacific Time ("Application Period").
HOW TO ENTER:
No purchase or payment is necessary to apply for the Scholarship. During the Application Period, you may apply for the Scholarship by visiting www.chairish.com/pages/scholarship and entering the requested information, including your Essay Response (as further described below).
Chairish will post the essay topic online at www.chairish.com/pages/scholarship during the Application Period. In order to apply for the Scholarship, in addition to the other requirements stated herein, you must submit your essay response to the posted essay topic ("Essay Response") during the Application Period. Your Essay Response must be limited to 500 words or less in order to be eligible. You may only submit one application; multiple applications will not be considered.
By submitting an application, you agree that your application and any other information provided by you or collected by Chairish in connection with the Scholarship may be used by Chairish in accordance with Chairish's https://support.chairish.com/hc/en-us/articles/115007232828 and may be shared with Chairish's affiliated business entities (and otherwise as stated in the Privacy Policy). Notwithstanding the foregoing, you also grant a license to Chairish to use, publicly display, distribute, publish, create derivatives of, and copy your Essay Responses. All information submitted to Chairish as part of an application becomes the property of the Chairish.
Chairish expressly reserves the right to disqualify any Essay Responses and/or applications that it believes in good faith are generated by an automated means or scripts or are the result of plagiarism. Applications generated by script, macro or other automated means are void.
SCHOLARSHIPS:
One (1) "Design your Future Scholarship": a one-time Scholarship in the amount of $2,500 (two thousand five hundred dollars) to be applied toward tuition at the college or university in which the winner is enrolled.
The winners will only receive one Scholarship each. In no event shall Chairish be obligated to award any consideration other than the Scholarship specified in these Official Rules. The Scholarship is non-transferable and no substitutions (including, without limitation, for cash) are permitted. The winners shall be solely responsible and liable for all federal, state and local taxes, and any other costs and expenses, associated with the Scholarship.
SELECTION OF SCHOLARSHIP WINNER
Judges from Chairish shall review the applications of each entrant, including the Essay Responses, and select one winner for each Scholarship. The Judge(s) shall base their decision on the following criteria: written communication skills, ability to demonstrate the values contemplated by the essay topic, and overall application strength. The Scholarship will be conducted under the supervision of Chairish. The decisions of Chairish are final and binding in all matters relating to this Scholarship.
CLAIMING YOUR SCHOLARSHIP
The Scholarship winners will be notified at the email address and/or phone number provided to Chairish; provided, however, that Chairish reserves the right to determine an alternate method of notification. Failure to provide accurate contact information may result in ineligibility, and if unable to contact a winner within 72 hours, Chairish may in its discretion award a Scholarship to any other eligible applicant.
The Scholarship will be awarded to the winner and paid directly to his/her accredited college or university for tuition for the semester following their win. Winners are required to provide Chairish with the following information if requested:
Your residential address and phone number;
Your student identification card at your enrolled college or university;
Your current or most recent transcript from your enrolled college or university;
Contact and mailing information for your college's or university's financial aid office.
No payment of any Scholarship will be granted until Chairish is able to verify with the winner's financial aid department that you are enrolled at the institution. The winner must cooperate with Chairish and his/her institution in filing or providing any necessary paperwork or other materials or signatures deemed necessary by Chairish or the institution in their discretion to process the Scholarship. Chairish may, in its sole discretion, decline to award payment of the Scholarship in the case of a winner's failure to provide information in a timely fashion requested by Chairish or the institution, or if the student's enrollment lapses for any reason.
PAYMENT DIRECTIONS:
Chairish will pay the Scholarship directly to the U.S. accredited college or university of the eligible winner in one lump sum. No Scholarship moneys will be paid directly to the winner. Chairish has the sole discretion and final word over the timing and manner of any scholarship payments. The winner will be responsible for providing a letter of enrollment from the college or university where the Scholarship will be directed.
GENERAL CONDITIONS AND RELEASES:
By applying for the Scholarship, you agree to conform to all federal, state and local laws and regulations. When applicable, the winner may be required to execute and return (and winning may be conditioned upon the winner executing and returning) to Chairish, within ten (10) business days, an Affidavit of Eligibility and a Liability and Publicity Release drafted by Chairish to be eligible for the Scholarship or an alternate winner will be selected. The winner may be required in Chairish's sole discretion to complete relevant tax forms as a condition to the delivery of the applicable Scholarship. Winner may also be required to furnish proof of identity, address and birth date in order to receive a Scholarship.
Unless prohibited by applicable law, your acceptance of a Scholarship constitutes your permission to use your name, photograph, likeness, voice, address (city and state) and testimonials in all media, in perpetuity, in any manner Chairish deems appropriate for publicity purposes without any compensation to such applicant or any review or approval rights, notifications, or permissions; and constitutes your consent to disclose your personally identifiable information to third parties (including, without limitation, placing the winner's name on a winner's list).
An applicant or winner may be disqualified from winning the Scholarship if he or she fails to comply with each provision of these Official Rules, as determined in the sole discretion of the Chairish. Application for the Scholarship is at applicant's own risk. Chairish shall not be liable for: (1) failed, returned or misdirected notifications based on inaccurate information provided by the winner in connection with an application; (2) applications and responses to winner notifications which are lost, late, incomplete, illegible, unintelligible, postage-due, misdirected, damaged or otherwise not received by the intended recipient in whole or in part or for computer or technical error of any kind; (3) any electronic miscommunications or failures, technical hardware or software failures of any kind, lost or unavailable network connections, or failed incomplete, garbled or delayed computer transmissions which may limit an applicant's ability to apply for the Scholarship; (4) any technical malfunctions of the telephone network, computer on-line system, computer equipment, software, program malfunctions or other failures, delayed computer transactions or network connections that are human, mechanical or technical in nature, or any combination thereof, including any injury or damage to applicant's or any other person's computer or mobile device related to or resulting from downloading any application or otherwise in connection with this Scholarship; or (5) any warranty with respect to any Scholarship or any component thereof. THE SCHOLARSHIP IS AWARDED "AS IS" AND CHAIRISH DOES NOT MAKE ANY, AND HEREBY DISCLAIMS ANY AND ALL, REPRESENTATIONS OR WARRANTIES OF ANY KIND REGARDING THE SCHOLARSHIP.
NOTWITHSTANDING ANYTHING ELSE HEREIN OR OTHERWISE, CHAIRISH AND/OR ITS VENDORS SHALL NOT BE LIABLE OR OBLIGATED WITH RESPECT TO ANY SUBJECT MATTER OF THIS AGREEMENT OR UNDER CONTRACT, NEGLIGENCE, STRICT LIABILITY OR OTHER LEGAL OR EQUITABLE THEORY FOR (A) ANY SPECIAL, INCIDENTAL, CONSEQUENTIAL, OR EXEMPLARY DAMAGES (INCLUDING, WITHOUT LIMITATION, LOSS OF REVENUE, GOODWILL, OR ANTICIPATED PROFITS), (B) DATA LOSS OR COST OF PROCUREMENT OF SUBSTITUTE GOODS OR SERVICES, AND/OR (C) ANY MATTER BEYOND SUCH PARTIES' REASONABLE CONTROL.
By applying for the Scholarship, you agree to and hereby do release and hold harmless Chairish and their respective parents, subsidiaries and affiliated entities, directors, officers, employees, attorneys, agents, and representatives from any damage, injury, death, loss, claim, action, demand, or other liability (collectively, "Claims") that may arise from your acceptance, possession and/or use of any Scholarship or your application for this Scholarship, regardless of whether such Claims, or knowledge of the facts constituting such Claims, exist at the time of application or arise at any time thereafter. Any person attempting to defraud or in any way tamper with this Scholarship may be prosecuted to the full extent of the law. Chairish reserves the right to modify these Official Rules in any way or at any time. Chairish reserves the right, in its sole discretion, to cancel or suspend this Scholarship should viruses, bugs or other causes beyond their control corrupt the administration, security or proper operation of the Scholarship. In the event of cancellation or suspension, Chairish shall promptly post a notice on Chairish's website to such effect. These Official Rules shall be governed by California law, without regard to conflicts of laws provisions. By applying for this Scholarship, you agree that any dispute or litigation arising from or relating to this Scholarship shall be determined by binding arbitration only in San Jose, California, by and under the Streamlined Arbitration Rules and Procedures of JAMS, and judgment on the award rendered by the arbitrator(s) may be entered in any court having jurisdiction thereof. Notwithstanding the foregoing, Chairish may seek equitable relief in any court of competent jurisdiction. If any provision of these rules is held to be illegal or unenforceable, such provision shall be limited or eliminated to the minimum extent necessary so that these rules otherwise remain in full force and effect and enforceable.
PAST SCHOLARSHIP RECIPIENTS
Kianna Armstrong, University of Southern California
Syvanna Roberson, University of North Carolina — Greensboro
Syeeda Simmons, Columbia University
Antoine Gray, The Ohio State University
Lexi Snyder, Arizona State University
Natasha Rivera, NYSID
Marian Roshdy, University of Virginia
Michelle Zhang, Columbia University
Arly Gisselle Melendrez, Arizona State University
Juan Pablo Barascout, Philadelphia University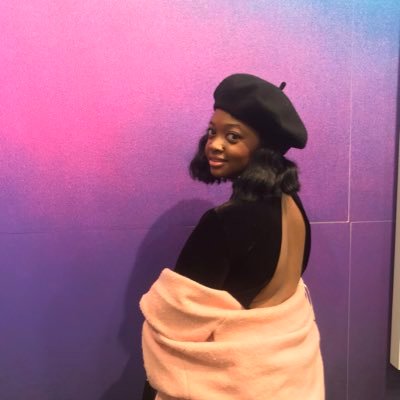 Didintle Ntsie, The New School
Ankitha Doddanari, UC Berkeley