With over 350,000 fabulous finds on Chairish, individual listings can easily get lost in the crowd. Promoted Listings ensures your items are highlighted with premium placement and maximum visibility.
Promoted Listings is an optional tool sellers may use to give their listings an extra boost of visibility on Chairish.com. It allows their listings to be seen by more shoppers, increasing the likelihood they'll find potential buyers.
Turning On Promoted Listings
To turn on Promoted Listings for the first time, go to your Promoted Listings page and click on the Get Started button. Setup is a snap — just enter a daily budget and billing information and you're ready to go.
Once you're enrolled, your listings will rotate within the collection pages, prominently designated as "Promoted". Promoted items are powerful — they usually sell 2 – 3 times faster than those below!
If you turned off Promoted Listings and want to turn it back on, go to your Promoted Listings page and flip the switch at the top of the page to the "On" position. Your listings will immediately start being promoted.
We currently do not allow sellers to use Promoted Listings on an item-by-item basis. Once you set a daily budget, we'll do our best to spread your budget across items from your entire shop.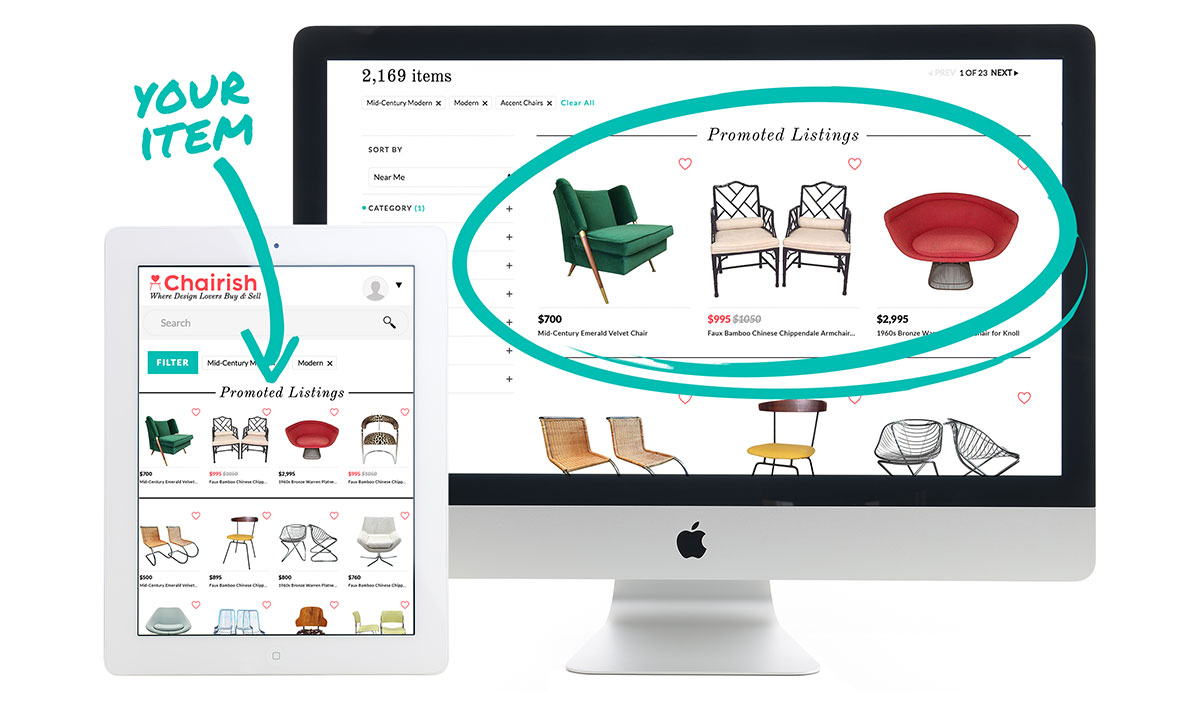 Setting & Adjusting Your Daily Budget
Your daily budget pays for impressions. An impression is counted each time an item from your shop is rotated into one of our top slots on a collection page. Each impression is $0.003, so a daily budget of $3 would pay for 1,000 impressions per day. While you have Promoted Listings turned on, we'll only serve impressions up to your maximum daily budget. You can increase or decrease your budget, or turn Promoted Listings on or off at any time.
Adjusting your daily budget is easy — just go to your Promoted Listings page, and click the "Edit" button next to your existing budget. Then enter your new budget amount. Your new budget will go into effect immediately.
Please note that the minimum daily budget is $1.
Promoted Listing Placement on Collection Pages
For collection pages, we will only promote listings that fall within the category of the collection being viewed. So for our Accent Chairs page, only Accent Chair listings will be promoted. Once a shopper lands on a page, we'll pull Promoted Listings at random, from our pool of eligible listings, and display those listings in our Promoted slots.
Promoted Listing Billing
After you turn on Promoted Listings and begin accumulating impressions, you'll be charged on a monthly schedule for impressions you've racked up throughout the previous month. You'll receive a monthly statement email each time you're billed, with your shop's most recent performance and stats.
Members of our Elite Seller Program receive $30.00 of Promoted Listing credit each month. Monthly billing will begin only if promotions exceed $30.00.
Updating Billing Information
Updating your billing information is easy - just go to your Promoted Listings page, click the "Edit" link next to "Billing". From there, you can select a different saved credit card or enter a new one.
Turning Promoted Listings Off
If you'd like to turn Promoted Listings off for your shop, just go to your Promoted Listings page and flip the switch at the top of the page to the "Off" position. Your listings will immediately stop being promoted. If you have any outstanding impressions, you'll be charged for them at the end of the month.
Promoted Listings Suspensions on Account
Promoted Listings are most commonly suspended due to billing issues such as an expired credit card. If Promoted Listings has been suspended for your shop, simply go to your Promoted Listings page and correct your billing information. If you're still experiencing issues, please contact support@chairish.com.
Do I get a refund if my items don't sell?
Unfortunately we cannot issue refunds to sellers if their items don't sell. If you've promoted your items and have seen little increase in sales, there may be other factors deterring potential buyers, such as price or shipping costs.