If you are selling the same item in more than one color, size, pattern, etc., you can now link them together with our Variants feature! This will help you showcase all the options you offer for your new and made-to-order products.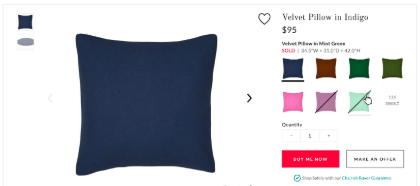 Adding a variant to an existing listing is easy! From your "My Listings" page, click "Create a variant from this listing."
All of the information from the previous listing will be copied over, except for the photos and title. Variant groups must have the same category and period made, so you won't be able to edit these fields.
Variants must be created and linked while the listings are still drafts. Once published, standalone listings cannot become variants; and once your variant listing has been published, it cannot be unlinked. If you have created a draft for a variant in error and want to "unlink" it from the variant group, click "Unlink this Draft" at the top of the product listing form.
On collection pages, the oldest, or parent, listing will be featured as the primary image.