When a piece was inspired by a particular designer or artist, but NOT created by them; or if a piece is attributed to the designer but you are not able to provide definitive proof, enter the source of inspiration (designer) or attribution in the "styled after" field.
For these items, clarity is key. The attributed to/styled after nature should be stated in the title + description as well as this field. This designation is important in avoiding misrepresentation.
Note: our curation team may incomplete your listing if a brand/designer is mentioned and no additional proof of authenticity is included. If you are not able to provide additional documentation, your listing should always be represented as "attributed to" or "styled after", depending on the scenario.
Attributed to: In the example below, the seller believes the coffee table to be made by Maison Jansen but does not have definitive proof via markings, labels, or provenance.

Licensed Reproduction: Herman Miller, DWR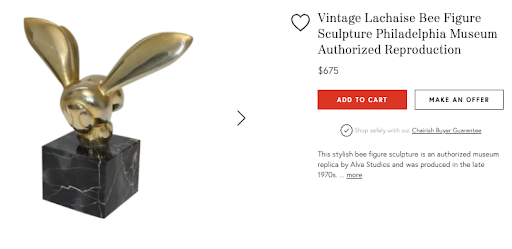 Unlicensed Reproduction: Bootleg/knockoff/Unauthorized Reprint or Copy of work in the public domain. Please be aware that we only accept authorized reproductions that do not infringe upon copyrights or trademarks.