Transparency is key! Accurate representation of the item for sale on Chairish establishes trust between you, shoppers, and Chairish as a whole. Creating a thorough, compliant listing will lead to smoother transactions and a great experience for both you and your audience.
The following guide walks you through the process of creating a listing, step-by-step. You can scroll through the entire process, or use the index below to jump to specific fields where you may need more guidance:
Submitting Your Listing For Review
Section 1: The Basics
Title Field:
Chairish is unique in our preferences for formatting listing titles. Rather than including as many buzzwords as possible (as you may do when listing on other marketplaces), we ask that sellers stick to the most relevant + specific details and terms for each item. Our title practices are based on specificity, searchability, and last but not least, aesthetics.
Along with the main image, your title forms the first impression your listing makes on Chairish shoppers. Titles should be clear, concise, relevant, and descriptive.
To optimize for search results, your title should:
Be unique to the item

Be as specific as possible while keeping the descriptors relevant

Not include extraneous adjectives to describe your item
For example, rather than saying that your item is "vintage", get specific and note the actual era of the piece (if you know it). If your titles are too general, it will directly impact the discoverability of your listing on the site.
For more help with titles, visit Creating a Listing: Building a Title.
Category:
Select the category that best matches your item and the category where a shopper would logically navigate when searching for your specific item.
Our categories are generally multi-level, allowing you to be as specific as possible, e.g. Furniture > Tables > Coffee Tables. Product searches on Chairish will deliver both broad results (like tables), to the most specific (like demi-lune tables).
Correctly categorizing your listing will help shoppers locate your product quickly ( and bonus! - reduce the time to publish your listing).
Selecting a category on the listing form?
The fastest way to find a specific category is to use the type-ahead tool.
Start typing the word for the type of furniture or decor item that best applies to your item for sale. As you start typing, a range of category options will appear in the dropdown box below. A checkbox next to the category name means that you can select it as the category for your listing.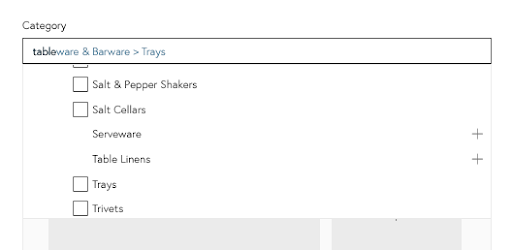 For example, if you are listing a coffee table, start typing "table" into the category field. You will see a list of category options dropdown. Check the box next to the best fit.
Please note: If you wish to see all of your options, you can also scroll down the list of subcategories to explore our category options and select the most relevant categorization for your item.
If you can't find the category you are searching for using the type-ahead tool, or you just want to explore our category options, you can expand the category list manually by clicking on the plus sign next to a category header, you can drill down until there is nothing left to expand.
Photos
:
Images must be no smaller than 575 pixels wide or high and no larger than 2000 pixels wide or high.
The main photo - the image displayed on our gallery pages and the Product Description Page - should be in the first and largest image slot, followed by your various angled views and detail shots.
You can quickly drag and drop single or multiple JPEG or PNG files into each image slot from your desktop.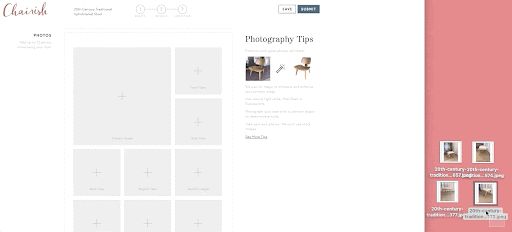 When creating your listing it can be helpful (and faster) to take your pictures before you begin the listing process, which will allow you to manage your images in bulk.
From your desktop, select all of the photos to be uploaded to your listing (the file names will be highlighted once they have been selected).

Click your right cursor and drag the group of selected images over to the photo field of your listing.

Release your cursor and the images will begin uploading to the listing form.

After uploading your images, you can change the order by clicking, dragging, and dropping.
Pro tip! Optimize your listing for our View in Your Space tool by photographing your item in a fully assembled state, exactly as it would display when in use.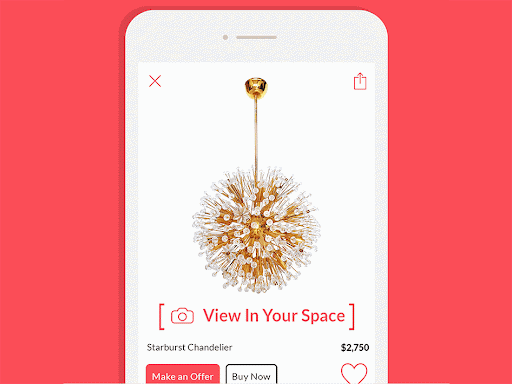 Please visit our Photo Guide to review the specific requirements for your listing's images::Creating a Listing: Photo Guide
Description:
The description tells the story of your item and engages the buyer with more detail: where it was acquired, any information on the provenance you may have, and narrates your listing's images (ie, describes the texture, finish, color, and construction details).
We require information on the brand/manufacturer for all submissions made during or after the 1990s and on select vintage pieces that we believe to be made by brands we may not accept. If you do not provide the information in your description, your listing will be marked as incomplete and may be declined.
Do

Don't

Use full, complete, and grammatically correct copy.

Use bullet points, lists, extra punctuation, ALL CAPS text, and incomplete sentences.

Include information on the color, texture, surface quality, and finish. All keywords in the description are searchable on our site.

Please add any searchable key terms you think are important for locating your listing within the body of the description paragraph(s):

Age

Condition

Quantity

Maker/Brand

Styles

Place of Origin

Provenance

Materials/Medium

Any present maker's marks or signatures

Include contact information or links to your social media accounts such as:

Street Addresses

Email Addresses

Phone Numbers

URLS

Twitter, Facebook, or Instagram Handles

Include these non-compliant terms in your description:

Local Pickup Only

Cash Only

Viewing Product Before Purchase

No Returns/Final Sale

As-is

When listing a set or pair, describe the number of pieces that are included in the listing, and the measurements for each.

Include hashtags or buzzwords at the end of your description; they will not have a positive impact on the searchability of your listing on Chairish or 3rd party search engines.

Don't copy/paste copy from other listings on Chairish or elsewhere on the internet, including artist/designer bios sourced from 3rd party reference websites.
Pro tip: Consider using a browser extension that will check your spelling and grammar automatically!
Section 2: Item Detail Fields
The item detail fields in section 2 are the core of your listing. Accuracy and detail in these fields will contribute to seamless sales and a reduced chance of buyer dissatisfaction or a return.
Here is how your listing details will appear when completed: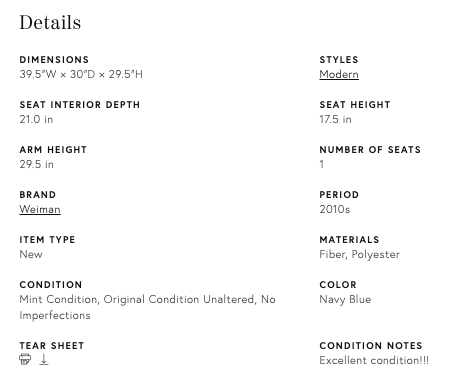 Brand / Artist / Designer / Styled After Fields
The Brand / Artist / Designer / Styled After fields are key to accurately representing your item.
There are four fields to select from, and typically, only one of these fields will be relevant to the listing.
In some nuanced instances, you may use up to two of the four available fields.
Example: if the item was designed by an iconic designer + manufactured by a well-known maker e.g. Dorothy Draper for Henredon.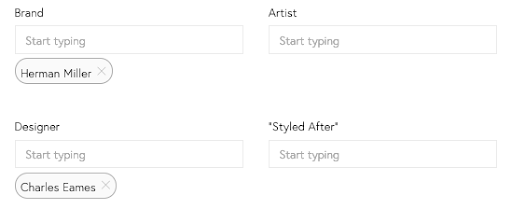 This field features type-ahead functionality, start typing the name of the brand and a dropdown will appear with any matches.
If you don't have any information specific to the brand or attribution, you can input "unknown" in any of the fields, or select the unknown checkbox to the right of the section.
Be sure to add the brand/artist/designer in your listing's title and description to optimize search results. Always include images of any maker's marks or tags, even if the brand is not listed in our database.
Note: We require information on the brand/manufacturer for all submissions made during or after the 1990s and on select vintage pieces that we believe to be made by brands we may not accept. Please note this information in your listing's description if the brand is not available in this field.

Brand: Use this field only if you have firsthand information about the authenticity of your piece. This could include a maker's mark, a certificate of authenticity, or if you are the original owner, provide proof of acquisition in the event appropriate markings are missing. Please go into detail on all of the above in your listing's description and photos (if applicable).
Designer: Use this field if an item was manufactured by one company (with visual proof), and designed by a named designer. This is one of the few circumstances where we encourage you to use two fields for your listing to be as specific as possible.
Artist: Use this field only if you are listing an item categorized under fine art.
Styled After: When a piece was inspired by a particular designer or artist, but NOT created by them, enter the source of inspiration (designer) in the "styled after" field; or if a piece is attributed to the designer but you are not able to provide definitive proof. Check here for more details about the correct use of Styled After.
Style:
Above all, the Chairish shopper is style savvy! Selecting accurate style tags will ensure that your listing is presented alongside the correct style families and collections on the gallery pages.
This field features type-ahead functionality - start typing the name of the style, and a dropdown will appear with any matches.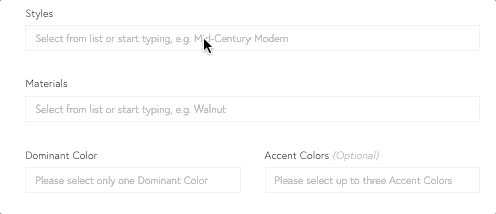 Select only the most accurate style tag for your item. Do not select any styles that denote a period if your item was not actually manufactured in that era (Mid-Century Modern, Art Deco) without clearly stating that the item is contemporary in your listing's title and description.
Materials:
Select the materials that are focused on the majority of the structure of your item. For example, if you are selling a wood dresser with glass knobs, only select "Wood".
Our system automatically suggests materials tags based on terms detected in your listing's description. They can help you be more specific, but you should only select the materials that expand on the accuracy of your listing (wood vs. rosewood, glass vs art glass).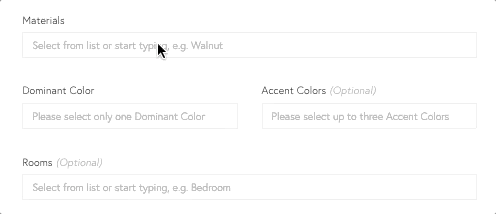 Certain material tags may trigger special handling for shipping; only include materials tags that make up a significant portion of your item.
For more information about restricted and protected materials, review our Curatorial Guidelines - Protected/Restricted Materials
Prop 65:
This field is required by law to disclose any materials that have been deemed hazardous by the state of California, even for sellers not located within the state.
Depending on the chemical makeup of the materials your item is made of, select Yes, No, or I don't know.
If the item requires a Prop 65 warning, you may include additional text to elaborate on the warning;
Learn more about Prop 65 here.
Color:
As a rule of thumb, put yourself in the position of a shopper. Use the dominant color tag to place your item in the color family a shopper would logically navigate to in order to find the item.
The dominant color selected should reflect the overall color of the item. If your item has multiple colors, select the background color or color that covers the most area on the item.
Secondary colors are not required, but if the item has a pattern or foreground colors you may represent them here.
Examples:
Dynamic Attribute Fields:
Some categories include unique attributes that are required within the Chairish listing form. These key details are presented on your listings' product page, and may influence a buying decision, as well as the buyer's overall satisfaction with an order.
Getting Started:
Start by navigating to the category selection field, and selecting the category that is the most specific to your item.
Once a category has been selected, dynamic attribute fields will populate in the listing form.
Learn more about the fields specific to the category of your item(s)
*Pattern is required for this category. It is also required for Wallpaper and Rugs.
View all pattern options here.
Country of Origin:
Use this field to specify the country where your item was manufactured.
If your item was made in the 21st century, we require that you select the specific country where the item was created. We can not proceed with listing your item if you do not know a newly-made item's country of origin.
If your item is pre-21st century and you do not know the country of origin, you may select unknown.
If the country of origin for your item is not available in our dropdown list, the country is sanctioned in the U.S., and we will not be able to move forward with your submission.
Learn more about our policy around listing products from sanctioned countries by visiting our Curatorial Guidelines.
Dimensions:
Exact measurements are a critical component to accurately representing your item, and calculating shipping costs. See our Dimensions Guide for more information on how to account for your item's measurements.
Condition:
The condition section consists of a series of questions designed to create a comprehensive view of the condition of your item. Buyers aren't afraid of a little patina - they just want to know about it upfront. Transparency and accuracy about the item's condition reduce the risk of a return or buyer dissatisfaction. Be as specific as possible when disclosing condition details.
Period Made/Year Made:
If you do not know specifics, we recommend researching similar items in our Pink Book or on other reference sites.

Lead time:
If a product is marked as Not yet Made - Made to Order in the period made the field, you will be required to note the total production time in this field. We understand that this can fluctuate based on a number of factors, so be generous when you set your lead time, and keep in mind that you will be expected to uphold the timeframe for each order received.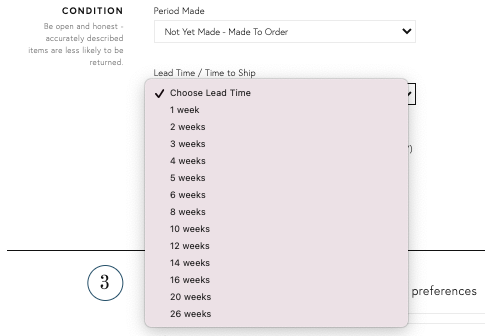 Has it been used?:
| | |
| --- | --- |
| Vintage/Antique/Used | Not Used |
| Items used for display purposes | New with tags |
| Items with wear and tear | New without tags |
| Any used items greater than or equal to 20 years old | Vintage deadstock, never been used |
Still not sure? For more information on accurately representing your item (vintage vs antique) please consult Vintage vs. Antique, Know the Difference!.
Original condition: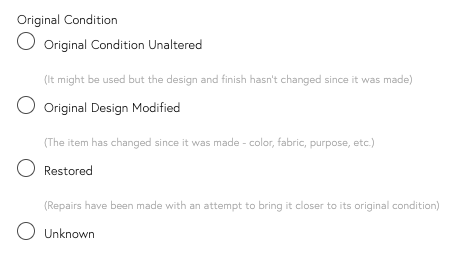 | | | |
| --- | --- | --- |
| Original Condition Unaltered | Original Condition Modified | Restored |
| The item is completely original with no repairs, restoration, or modifications. | Overall design or motif of the item has been altered from the original state e.g. repainted, refinished, or reupholstered. | The item has been newly finished and appears/functions as it did when it was brand new. |
If you do not know the modification/restoration history of an item, please select "Unknown".
Does it have imperfections?:
No Imperfections

Some Imperfections

Needs Restoration

Only select this option if your item is in brand new/unused condition.

Most used vintage and antique items will fall into this category.

"Vintage perfect" condition is not equal to newly made/fresh out of the box perfect condition. No matter how well taken care of, a vintage item will show some signs of use!

Any piece requiring reupholstery, repairs, rewiring, etc. in order to be usable in a home setting.

We reserve the right to decline items that are not in ready-to-use condition, and we evaluate each submission in need of restoration on a case-by-case basis.
We consider an imperfection to include any of the following, unintentional attributes:
Chips

Dents

Scratches

Discoloration

Patina (no matter how desirable)

Any and all wear commensurate with age
If your description, images, or condition details mention any of the above, our production team will update this field on your behalf in the publishing process.
If your item is newly made and includes intentional distressing, is handmade, or uses natural materials which are inherently imperfect, you should still select "No Imperfections" unless the item also includes the unintentional imperfections noted above.
Condition Details: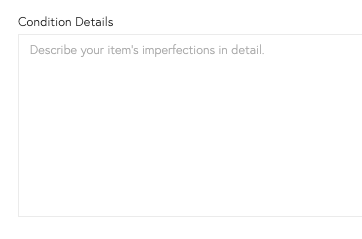 The condition details field should account for the specifics of your item's condition flaws, or lack thereof. This is where you should note any and all imperfections, however small.
Many Chairish shoppers are new to the vintage world. Setting expectations upfront on how your vintage item will differ from a newly made item will reduce the chance of buyer dissatisfaction related to the condition. More is more!
In addition to providing thorough condition details, capturing any imperfections in your photos is always recommended.
You may also want to add a disclaimer if your item is newly made, but composed of natural materials where inconsistencies in the surface condition are inherent to the materials used. This also applies if your item is newly made with intentional distressing.
Section 3: The Logistics
Price:
You set the "Asking Price" based on factors like market value, time/effort spent sourcing the piece, and a buffer for Chairish commission and/or taking markdowns. Your price should be based on the unit type of the listing (ie, pairs, sets, individual items).
The Pink Book Pricing Guide is a great place to start if you are beginning your research on pricing your inventory. Our team is not able to make pricing recommendations for you, however, our curators do look into pricing during the publishing process to ensure that listings reflect fair market value.
Listing Flow Pricing Calculations: Your payout is calculated in real-time as you enter an Asking Price. When Trade Discount and Reserve Prices are applied, the calculations are updated.
Note: Any adjustments associated with packing and shipping are not included at this point.
Trade Discount:
Trade discounts are offered to verified industry professionals only and are a great way to catch their eye.
A typical trade discount ranges from 15-30% and may be applied at the individual listing or shop level. It is your choice whether or not to opt in to this offer, but we strongly recommend that you do!
Reserve Price:
The reserve price is the minimum offer amount that you are willing to accept for each item. The reserve price is not displayed to buyers.
Any offers equal to or greater than your reserve price will be automatically accepted.

Offers below your reserve price will require your approval.
You are not required to use the reserve price option. If you want to consider each individual offer, do not use this field.
Estimated Retail Price (Optional):
Limited to contemporary items that are presently available for sale.
The estimated retail price should be the published retail price. If you choose to include an estimated retail price, it will display on the PDP along with the listing price.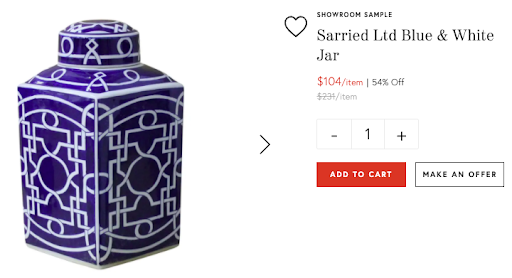 Example: The estimated retail price for this item is $231, and the listing price is set to $104. Our system automatically represents the difference as a markdown on the PDP.
Inventory Details:
Unit type:
To align the items for purchase with the asking price, select the unit type from the dropdown list of available options.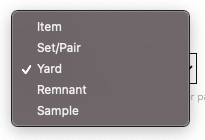 Item - single items being sold individually

Examples:

Teapot with lid

A single chair

Throw pillow with an insert
Set/Pair - two or more separate items, priced as a set

Examples:

Set of dining chairs

Set of highball glasses

A pair of decorative books

If you selected "Set/Pair", you will be prompted to add the number of pieces included. If you are selling a set of 8 dining chairs, you would enter "Number of Pieces = 8".
Sample (rugs, fabric categories + wallpaper only) - for listing a small sample of a larger item also available in your Chairish shop

Remnant (fabric categories + wallpaper only) - incomplete rolls of wallpaper, quantities less than one yard of fabric

Yards - reserved for fabric categories being sold by the yard
Inventory Count:
If your listing can be replenished, enter the quantity in the inventory count field. If the item you are listing is made to order, add the maximum quantity that you are able to produce simultaneously.
Minimum Order Quantity:
For select categories, you may restrict purchase quantities to greater than one, by using the minimum order quantity tool.
You may set a minimum order quantity for the following categories:
Carpet

Fabric

Fabric Trim / Tassels

Wallpaper Tile / Rolls / Borders
To set a minimum order quantity, navigate to the inventory section. In the minimum order quantity field, input the minimum number of units you will allow for a single purchase.

Here is how the listing will display with a minimum order quantity in place: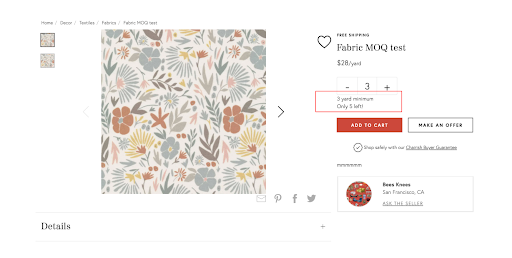 Please note: After meeting the minimum order amount, buyers will still be able to increase the quantity in increments of one, as they would on any other listing.
SKU (Optional):
If you use SKUs to track your inventory, please use this field. Do not enter your SKU into other fields like the title or description.
Shipping:
All items listed on Chairish must be eligible to be shipped. Items may not be listed for local pickup only. Items that are exceptionally large or heavy and require specialized equipment (e.g. cranes or similar) to facilitate a move will be declined.
We offer Chairish Managed Shipping precisely so that you don't need to become an expert in shipping, in order to sell your items!
Shipping dimensions (Optional):
In addition to standard/assembled dimensions, you are able to add shipping dimensions to more accurately estimate shipping rates if an item can be disassembled, compressed, or broken down. The more cost-effective the shipping, the more compelling an item will be to a potential buyer.
If you do not enter shipping dimensions, the required measurements field in section 2 will be used to calculate the cost of shipping.
See our Dimensions Guide for more information.
Pickup & Return Delivery Addresses:
Pickup Address:
The pickup address on a listing denotes the physical location of the item, ensuring accurate shipping cost estimates, and informing the shipper where to collect the item for transit.
Returns can be shipped to the same address where the item was picked up, or, you can enter a separate return address, to ensure that your item is returned to the location that works best for you. You can add or update all of your addresses in your account settings and they will be available for selection when creating a listing.
Shipping Options:
Most items sold on Chairish utilize Chairish Managed shipping. Chairish takes care of all the details, including securing and assigning the shipper, insuring the shipment, and paying the shipper.
Regardless of the shipping selection you make, the buyer will always be responsible for the cost of shipping unless you select seller-managed free shipping.
Parcel - smaller items or items that can be rolled, folded, or otherwise compacted can be packed and shipped via UPS.
In-Home - larger items such as furniture, large pieces of art, oversized rugs that cannot be packaged. also appropriate for exceptionally fragile (and large) or heavy items. These items are blanket wrapped or may require special crating,
Local Pickup & Delivery (Optional):
Local Pickup - This selection confirms that you are willing to have someone come to your physical location to pick up an item. The buyer is responsible for any costs associated with pickup such as truck rental or assistance loading/unloading the item.
Local Delivery - When selecting Local Delivery you are committing to deliver items within a defined geographic radius for a fixed price. This option is available to you, even when selecting Chairish managed shipping! e.g. you are happy to drive a purchase across town for $25.
Learn more about shipping options here.
Submitting Your Listing For Review:
Upon completion of the required fields, click "Submit" at the bottom of the listing form. If any of the required fields are missing, the section number at the top of the form will be highlighted, along with the specific field where you need to input data.
Clicking on the highlighted section number will take you straight to the section that needs attention.

Once your listing has been submitted, the status will change from draft to pending review on the backend. The review process typically occurs within a 4-day window.
You will not be able to make any additional changes to your listing until it has been published to the site.
For assistance with pending review listings, please contact production@chairish.com.