Art subject

This field reflects the overarching motifs depicted in an artwork. Only select the terms that a motivated buyer would use to locate a product like yours.
| | | |
| --- | --- | --- |
| Name | Definition | Example |
| Abstract | Artwork depicting representations of people, scenes, animals, and/or objects that may deviate from realistic interpretations by using various shapes, forms, or lines | |
| Animals | Artwork of animals depicted in a stylized or realistic manner. | |
| Architecture | Artwork depicting a building, dwelling, or structural component. | |
| Botanic | Artwork depicting plants, flowers, or any related horticultural species. | |
| Cityscape | Artwork depicting an urban landscape or collective of architectural dwellings, skyline, or scene of a town, village, or city. | |
| Fashion | Artwork depicting clothing or costume design/construction. Typically represented on a model; may represent past or current clothing trends. | |
| Figure | Artwork depicting the human body or group of people in a given setting; realistic depictions are best for this tag (shapeless figures should go under abstract). | |
| Geometric | Artwork depicting hard edges, shapes, lines, forms or patterns with sharp configurations. | |
| Graffiti | Visual art (also called "Street Art") with words, phrases, or forms usually spray-painted onto public buildings or spaces. | |
| Interiors | Artwork depicting the interior space, room, or area of a home, building, or dwelling. The focus of the piece will be furniture, decorative objects, or architectural elements. People may or may not be present. | |
| Landscape | Artwork where the main subject is nature (Land, Mountains, Rivers, Forests); Depictions may be stylized or realistic. | |
| Music | Artwork depicting instruments and/or musicians; includes sheet music or other musical-related ephemera. | |
| Mythology | Artwork depicting scenes or figures from religious or cultural myths. | |
| Nude | Artwork depicting the human body naked or semi-clothed. | |
| Patterns | Artwork with a repeated decorative design. | |
| Pop Culture | Artwork depicting consumerist culture; Including popular/recognizable celebrities or public figures, brands, products, etc. | |
| Portrait | Artwork depicting a specific person or group of people seated or standing still (figures are usually related; eg. a family portrait). | |
| Seascape | Artwork whose main subject is the ocean; may include shorelines, boats, harbors, maritime or beach scenes, coastal areas, or an event or scene on a body of water. | |
| Sport | Artwork depicting athletic scenes, leisurely and country pursuits, athletes in "action" scenes; as well as athletic equipment or environment where a given sport is played (basketball court, putting green, ski slope, etc) | |
| Still Life | Artwork depicting the arrangement of a single item or group of objects on a table or surface; Including glasses, bowls, bottles, books, floral bouquets, fruit, food, etc. | |
| Text | Artwork that incorporates letters, words, phrases, or a combination thereof. | |
| Other | Artwork that does not fit into one of the above categories; Usually minimalist, or lacking forms that are otherwise "geometric" or "abstract" | |
Frame type

If a listing is categorized under Paintings, Drawings, Posters, Collage, or one of the Prints categories, you will be prompted to specify whether or not the item includes a frame with purchase.
Your selection in this field will be displayed on your listing's product page, in the details section;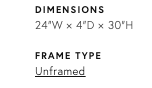 A note on dimensions: the measurements field should reflect the framed artwork. Note the size of the unframed artwork in your listing's description, if applicable.
Pro Tip: If included, the frame should also be shown in your listing's images.
Bonus Pro Tip: If your piece is unframed and can be shipped rolled, in a tube, use the tube measurements in the shipping dimensions, to reflect a lower shipping cost.