Power Source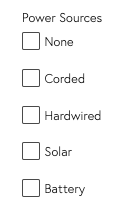 This field represents how power is supplied to a light fixture. If your item has multiple sources (ie, corded + solar) you may select as many options as you need to accurately represent your item.
Use this field to represent the current function of your item. If the light fixture has the potential to be hardwired, converted to solar, etc, note that in your listing's description.
| | | | | |
| --- | --- | --- | --- | --- |
| None | Corded | Hardwired | Solar | Battery |
| The fixture is not currently electrically wired, or wiring is not possible/necessary | The fixture has a power cord that plugs into an outlet | The fixture is mounted to a surface and is physically connected to a household's wiring | The fixture is powered via sunlight, through a solar panel | The fixture is powered by internal batteries |
| | | | | |
Plug Type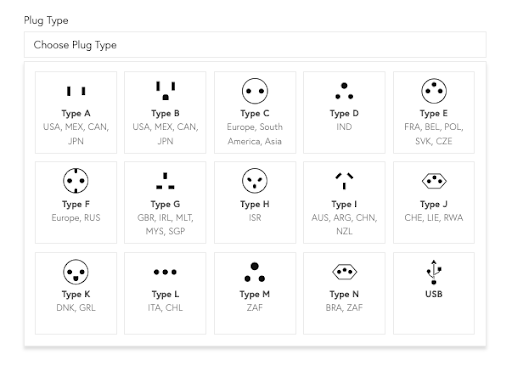 This field only populates when the corded selection is made.
Use the imagery in the field to match the plug on your item to the various outlets shown. If your lamp is functional in the US, it will fall under Type A or Type B.
Voltage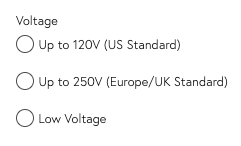 This field represents the rated voltage of a light fixture. If you are not confident in your item's voltage, consult a professional. They will be able to test the item on your behalf.
Working Condition

This dropdown field represents the condition of a fixture's wiring. It is only required for vintage + used lighting submissions.
Our system assumes that new light fixtures are in original condition with zero wiring issues or alterations. Please specify that your item is Vintage/Used if this is not the case.
For the safety of a potential buyer, never make assumptions about voltage or functionality. When in doubt, always seek professional guidance.
Lampshade

Use this field to specify whether or not the listing includes a lampshade by selecting 'included' or 'not included'. Do not include lampshades in your listings' main image if they are not included in the sale price.
If the lamp has a built-in shade that is accounted for in your overall dimensions, please select "Not Included"
Examples of lamps with built-in shades:

Your selection in this field will be shown in the details section of the product page: