Membership Qualification:
Interior designers, architects, and other design professionals working on residential or hospitality projects with a valid Resale Certificate, or other approved documentation, are eligible. We reserve the right to make all membership determinations at our sole discretion. Each designer must individually apply for membership by submitting their individual qualifications. Sign up for our Trade Program with your email address here.
Tax Exemption:
Trade Members are eligible for tax exemption on all orders, have successfully completed the application for tax exemption (separate from the application to the Trade Program), and have been approved, prior to the time of purchase.
If you have not already done so, you can upload proper documentation here when you are logged into your Chairish account.
Please note that we can not refund tax from any orders placed, prior to being approved for tax exemption.
Membership types and costs:
There are two levels of Membership in our Trade Program; Standard Trade Membership and Premium Trade Membership. Our Standard Trade Membership is free of charge to Verified Trade Members and is the entry point to our Trade Program. Our Premium Trade Membership is $995 per year, or free, once you spend $20,000 or more, on Chairish.
Membership Benefits Overview: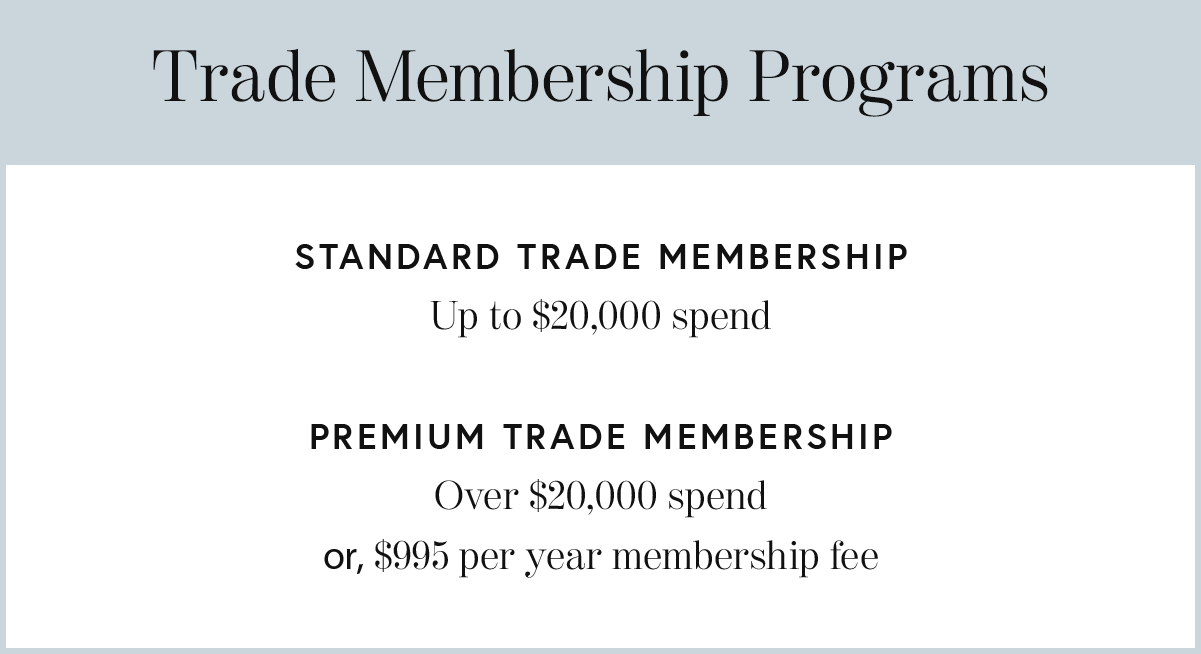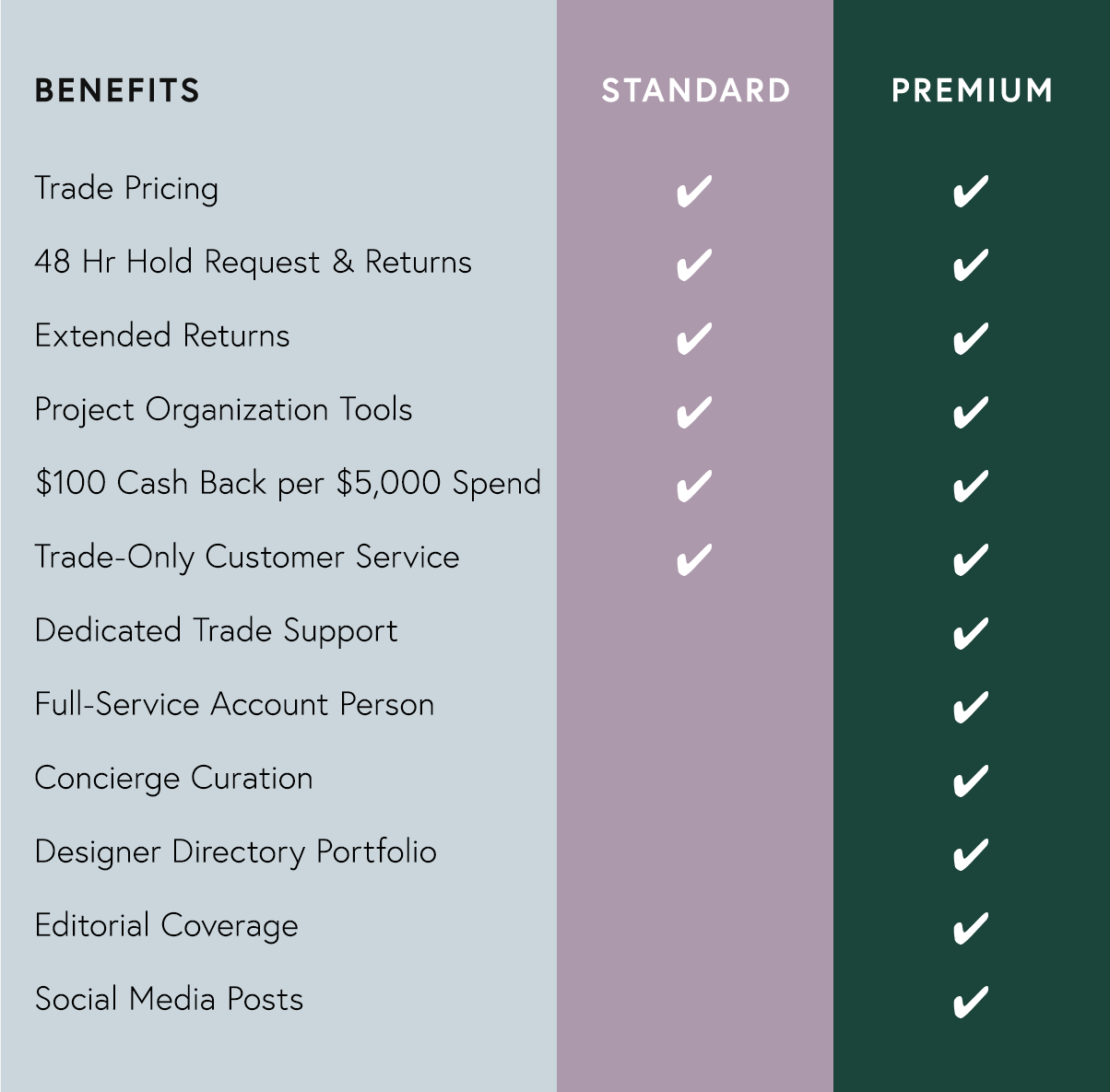 Premium Trade Qualifications:
A Trade Member (or company*) is eligible for a Premium Membership in one of two different ways:
Pay an annual membership fee of $995

Trade Member spends $20,000 or more, on Chairish

All "spend" on your current Chairish account contributes to your achievement, even if the "spend" was prior to joining the Chairish Trade Program.
*Chairish recognizes "companies" as groups of individuals with the same business email domain.
Company spending is pooled, and once your cumulative spend is $20K or greater, all members of the company become Premium members.
If your company paid for the annual subscription for Premium, all company members become Premium.
Learn how to join a company here. Please note that all additional members of a known Company must upload their tax exemption documentation to their individual accounts here.
If you have a paid Premium Membership, and your spend exceeds $20,000, you or your company will receive a coupon in the amount of $995, for use on qualifying purchases on Chairish.
Designer Directory Portfolio:
All Premium Members are eligible to submit their Company Information and photos for consideration to join our Designer Directory.
All portfolios are subject to review, ensuring that the portfolio is complete and meets our requirements, before publishing on our site.

All portfolios must contain at least 10 professionally photographed images, company name, and address. We suggest that you consult with our Trade Member Specialist prior to uploading content to ensure it will be approved.

On paid memberships, your Designer Directory Portfolio once your paid membership lapses. By renewing your membership, your Designer Directory Portfolio will be reactivated.
Editorial Coverage:
Chairish offers an extensive editorial calendar and we are always looking to feature Premium Trade Members.
We utilize various platforms such as our

Blog

,

Instagram

,

Facebook

,

Pinterest

,

and directly on the Chairish site.

If you are interested in being featured, you will see a complete list of upcoming opportunities to submit work

here

. We request that you only submit work that is currently in your Chairish portfolio.
Trade Discount:
Members of the Chairish Trade Program access net pricing on items where sellers offer Trade discounts.
Discounts are offered at the discretion of our sellers and vary from item to item. Please note that not all of our items have net pricing.

Only registered Trade Members logged into their trade accounts can see net prices on Chairish. We reserve the right to change the list of items not eligible for the trade discount at our sole discretion without prior notice.
Trade Rewards:
Registered Trade Members earn Trade Rewards for all purchases on Chairish, as a thank-you for shopping with us. Learn more about how Trade Rewards work here.
Termination:
Chairish reserves the right to terminate a membership or cancel our Trade Program at its sole discretion, with or without notice to the member. Members may cancel their membership at any time.